Upright Style Refrigerator
Model DH4-45SGD
JRV Inc. P.O. Box 1794 Arlington Heights. IL 60006 (847)-521-0203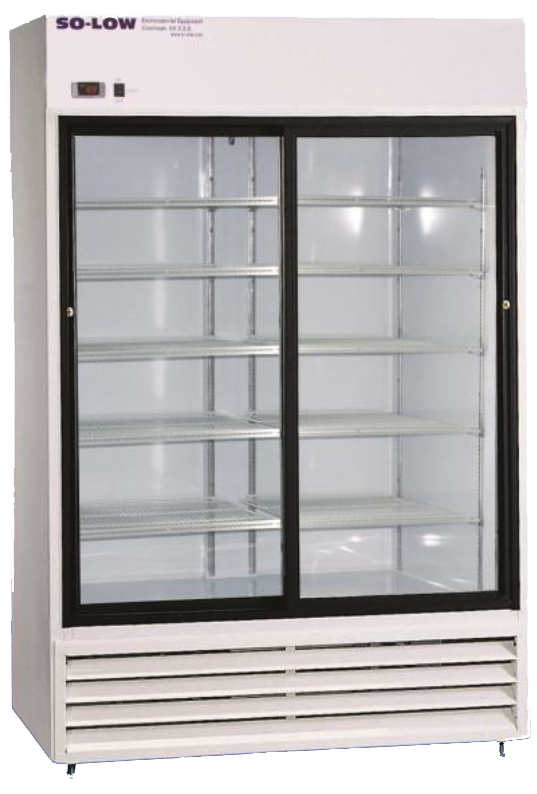 Capacity
45 cubic ft. / 1286 liters
Temperature Range
2°C to 8°C
Exterior W x D x H
52" x 32" x 81"
132 x 81 x 206 (cm)
Interior W x D x H
49" x 27" x 55"
125 x 69 x 140 (cm)
Temperature Control
Digital display
With Hi/Low Alarm
Alarm Relay Dry Contacts
Access Port
1/2″ Diameter Top Back Wall
Doors
Two sliding glass, locking
Casters
Four, Locking
Shelves
Ten
Interior Lighting
One fluorescent
Insulation
polyurethane foam
Refrigerant:
R134A
Compressor
1/3 hp
Condenser
Fin and tube
Air Circulation
Forced air
Evaporator
Fin and tube, forced air
Defrost
Cycle, Auto
Voltage: Domestic
115/60/1
Running Amps/Breaker
8.8/15
Supply Plug
5-15P NEMA
Shipping Weight
610 lbs.
Warranty-(Domestic)
Three year parts and labor
Compressors additional 2 years, no labor.
Ready To Get In Touch With US?